About us
Zabi Ltd was founded in 1990. Originally, it was a sole proprietorship called 'Locksmithing Zabi'.

In 2001 it became a limited liability company. Gaining extensive experience and expanding its capacity the company has been growing steadily and making a substantial profit. It operates in the whole of Poland and bordering countries such as the Czech Republic, Slovakia and Lithuania. The company's product line is expanding constantly as well as its manufacturing facilities, which are located in Czaniec and Oświęcim.
The strategy of the company is to build a brand by using proven, reliable and original manufacturing processes based on the latest innovations. The company's ultimate goal is to meet the needs and expectations of customers, ensuring a high quality of products as well as to develop the workers' qualifications. By accomplishing these goals the company aims at becoming more competitive.
The goals of the company are as follows:
modernize its stock of machines,
recognize and meet the needs of clients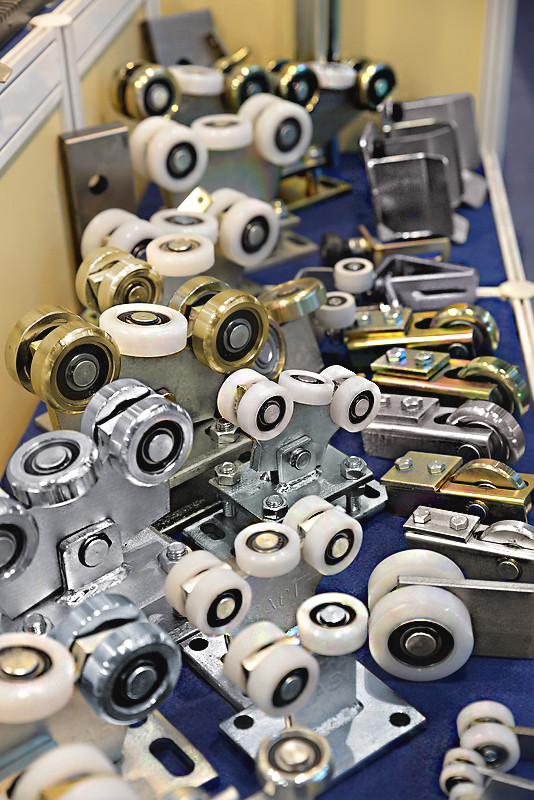 Zabi Ltd. mainly produces wheels and wheel sets used in in-house transportation and warehouse trolleys. We offer wheels, pneumatic wheels in steady and swivel housings withstanding heavy load and scaffold castors.
Our products are widely used in the food, clothes, steel and construction industry as well as agriculture. The company offers a wide range of products, which can be tailored to customer needs by adjusting the stem diameter or making the mould as required by a customer. Clients are also welcome to choose one of the three bearing types i.e. a ball bearing, a slide bearing and a roller bearing.
Zabi Ltd. ensures prompt and professional service and considerable expertise.


Zabi Ltd. offers the following range of wheels and wheel sets::
metal and rubber wheels,
plastic and rubber wheels,
aluminium wheels
aluminium and rubber wheels
aluminium and polyurethane wheels,
polyamide and polyurethane wheels
heavy load plastic wheels,
cast iron wheels,
pneumatic wheels,
gate carriages,
gate accessories,
pallet jack wheels,
lawn mowers wheels,
furniture wheels
Our offer also includes:
swivel housings
swivel housings with a bolt
swivel housings with a brake
swivel housings with (bolt optional)
steady housings with a hole (mounted with the use of a screw)
steady housings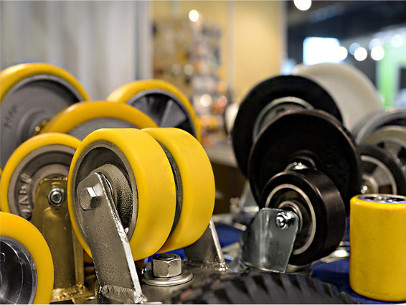 Zabi Ltd. provides coating and recovery with polyurethane of wheels, rollers as well as items of metal , iron cast and aluminium. We provide polyurethane of various degrees of hardness.

Polyurethane (PU, PUR) is a polymer obtained through addition polymerization. It melts far easier than polyamide, which enables its fast processing. Polyurethane hardness (soft, flexible, hard, stiff) depends on the materials used. Its hardness varies from 35 to 95 Shore degrees. The hardness of material is assessed according to the PN-ISO 868 norm.

Polyurethane properties:
resistant to abrasion, water, weather
capable of damping vibration completely
resistant to petrol, sulphurous acid, fats, organic solvents,
does not get old when in contact with oxygen and ozone,
very durable ,
not affected by visible radiation (nor by UV)
resistant to temperature fluctuations from -30° C to 80° C
mainly used to protect steel elements from corrosion and damage

The properties of polyurethane are easily adjustable within a very wide scope, which makes it very versatile. More and more often polyurethane is used in favour of traditional materials. In terms of resistance to stretching, elongation, tearing and abrasion, it vastly overweighs rubber. Items made of polyurethane are far more versatile, which makes them be widely used and considerably long – lasting.


Coating recovery

Zabi Ltd. provides recovery of wheels and rollers, which involves:
disposing of the old coating from the rolling elements
applying a new coating
mechanical working of the surface